ABOUT JAX-GM


The Jackson Laboratory (www.jax.org) is a world-­renowned research and educational institution with programs in statistical genomics, bioinformatics, genome technology, cancer, aging, stem cell, neurobiology, immunology, and microbiome. The Laboratory is recognized internationally for its excellence in research and educational activities, unparalleled genomic resources, and outstanding research support services. It is voted among the top 15 "Best Places to Work in Academia" in the United States for 2012 in a poll conducted by The Scientist magazine.

The Jackson Laboratory for Genomic Medicine (Jax-GM) is part of a $1.1 billion new venture between The Jackson Laboratory and the state of Connecticut. The institute is located in a new, dedicated, state-of-the-art research building, a 183,000 sq.ft. space incorporating a broad range of the most advanced research laboratories and supporting facilities. It is within a 2-hour drive of both New York City and Boston.
Powered by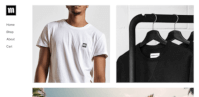 Create your own unique website with customizable templates.